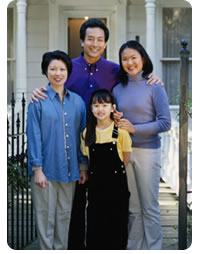 We come out and give you a free estimate, usually within 2-3 days
Preparation

We power-wash the areas to be painted (except for smaller areas such as windows and some trim areas, which are cleaned in other ways)
Scrape and sand: the loose paint is removed and is sanded to smooth
Holes and cracks are filled with caulk and patch.
Priming: Using a high quality oil-based primer, all bare surfaces, and the more weathered areas are primed. This seals up the weathered areas, and prepares them for the finish coat.

Using brushes and rollers, the finish paint is applied, usually with two coats. Two coats not only gives the project a better look, but it will also greatly increase the longevity of the paint job — saving you money in the long run.

Communication: Throughout the whole process, we keep the client up to date with progress and answer any questions they may have.

Clean and careful: We are careful, experienced painters who pride ourselves in doing a careful job, not getting the paint on areas that are not being painted. We are also careful about not disturbing plants or other things that may be obstacles during the job.
References available upon request